TAC AustraliaMeet Graham
Part interactive sculpture, part educational tool, Graham shows us how our bodies would need to change to survive a car crash. The human body hasn't evolved to cope with the forces in play in common crash scenarios. Using decades of road safety data and medical research a trauma surgeon, a road safety engineer and a world-renowned artist reimagined the human form. Delivering evolution underpinned by evidence.
Within 24 hours of being introduced to the world Graham had sparked a global road safety conversation as he was discussed, debated and even memed. And in 2017, Graham has been invited to join the World Health Organisation as their international face of road safety to remind us all of our vulnerability on the road.
Vue.js, Webpack, Html5, Sass, ES6 JavaScript, Spritz.js
Lead Developer on the project, I've helped to bring the road safety icon "Graham" to life through an interactive and educative online experience. I was in charge building the main interactive elements of the website, while leading the technical team.
Most creative campaign in the world according The Gunn Report 2017. Winner of the First Grand Prix of the 2017 Cannes Lions, plus awarded on D&AD, Awwwards, FWA, CssDesignAwards and Webby Awards.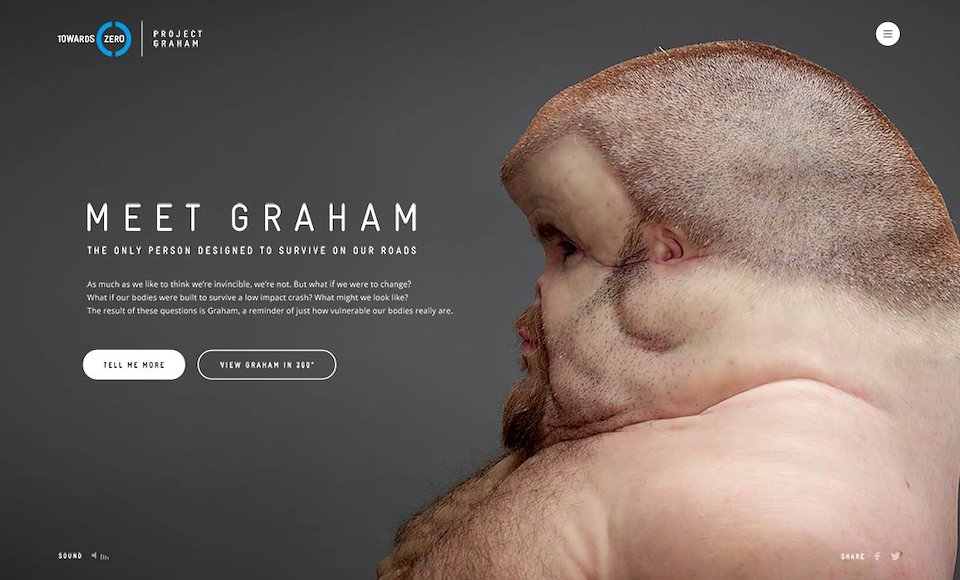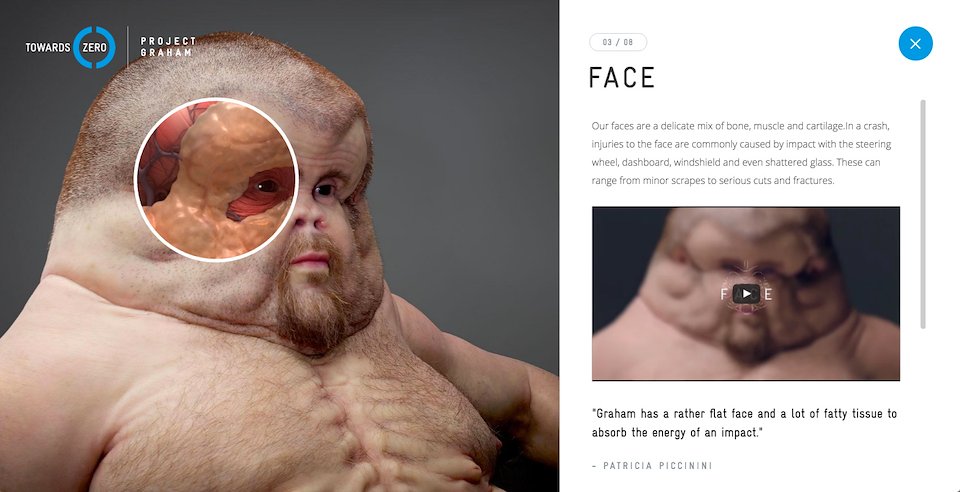 Technical Breakdown
Within 24 hours "Graham" had taken top spot on Reddit and was trending on both Facebook and Twitter. What started as a road safety campaign had become part of pop-culture.
The 360 viewer for Graham has been brought to life using Spritz.js - an Open-Source library that I've built to easily animate sprites with JavaScript.
An internal web application has been created specifically to facilitate the "Hotspots" integration on top of the 360 viewer.
The website is WCAG 2.0 AA compliant, and fully accessible for auditive, cognitive, physical or visual disabilities.​
A lightweight version of the website is accessible by people using IE8 or with JavaScript disabled in their browser.
The project recorded more than 10 millions page views and 1.2 billion impressions within the first week.