AirbnbUntil We All Belong
In 2017, Australia was the last Western country in the world not to recognise same-sex marriage. while Airbnb's core mission statement at the heart of the brand is "Belong Anywhere".
To bring these core beliefs to life not just by saying it, but by bringing it to life through real world action, Australians were asked to wear a uniquely designed black ring, to publicly show their acceptance of marriage equality.
A rich online experience enabled Australians to receive their ring, pledge their support to marriage equality, and understand the same sex marriage political debate happening in Australia at the same period.
Vue.js, Webpack, Html5, Sass, ES6 JavaScript, Spritz.js, Node.js, Contentful CMS
My role
Liaised with both internal and external stakeholders to help with creative, scoping, prototyping and initial client pitches for the creation of the interactive web experience.
Led a small team of x2 developers and x1 tester to build the rich web experience, with a tight creative integration and a short 6 weeks timeframe.
Prototyped and developed a total of 3 bespoke JavaScript libraries for the project, to create unique Frontend interactions and animations.
Earned multiple awards including a Cannes Silver Lion, Webby Awards, Developer Awwwards, and CSS Design Awards.
Key results
Within 3 days, Airbnb became the most talked about brand in the same sex marriage debate, globally. 200,000 acceptance rings claimed over Australia.
Qantas, Google, ANZ, eBay, Foxtel and other major corporates quickly rallied Airbnb in their fight for marriage equality. Over 110,000,000+ media impressions, later turned the campaign into the biggest corporate push for any LGBTIQ issue in history.
Same-sex marriage became legal in Australia from December 2017, about 8 months after the Until We All Belong campaign launch.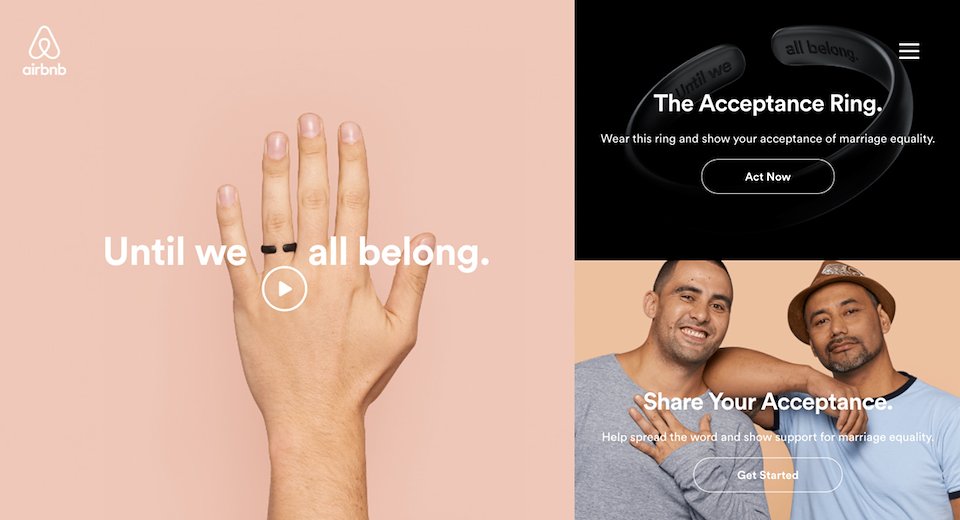 Technology
Within the online pledge process, people could select the picture of a human hand along with text statement. From your combination, a unique social image was generated for people to share on social. We had a total of 1,476 unique hands/pledge combinations possible.
The client-side interface was built with Vue.js and engineered around AA accessibility requirements, making the experience fully accessible for auditive, cognitive, physical or visual disabilities.
To accomodate with complex animation and assets, I decided to develop a bespoke JavaScript library able to animate large Sprites and manage both memory and images format dynamically. The library is now available open-source: https://github.com/maoosi/spritz.js